Top 14 Best Wholesale Jewelry Suppliers in Canada
Are you in the business of selling jewelry and looking for reliable B2B wholesale jewelry suppliers in Canada? In the past, options were limited, but now, with the growing demand for jewelry, numerous suppliers have emerged.
Finding the right partner in this bustling market can be challenging, but fear not! We've conducted extensive research to identify Canada's top wholesale jewelry suppliers.
Join us as we explore these reputable businesses and help you make informed decisions for your jewelry venture. Let's get started.
Wholesale Jewelry Suppliers in Canada – Top Picks
Location: 21 Queen, STE suite, 1202, Toronto, Canada.
Year Founded: 1988

Company Type:

Wholesaler, retailer

Main Products:

High-polished sterling jewelry, semi-precious stone jewelry, diamond jewelry

Other Products:

Earrings, necklaces, bracelets, pendants, etc
As the name implies, House of Jewelry handles itself like a jewelry family with all its customers, which is based on trust, transparency, hard work, and dedication.
House of Jewelry has existed for more than 30 years and has mastered the jewelry business in Canada.
They have acquired over 1000 retail stores in Canada and across North America. Customers are being served top-notch jewelry of different materials like diamonds, gold, precious stones, etc.
Purchasing their jewelry is simple; their online store is very active, with ready shipment for all purchases, and their retail outlets are blooming and waiting for customers to troop in.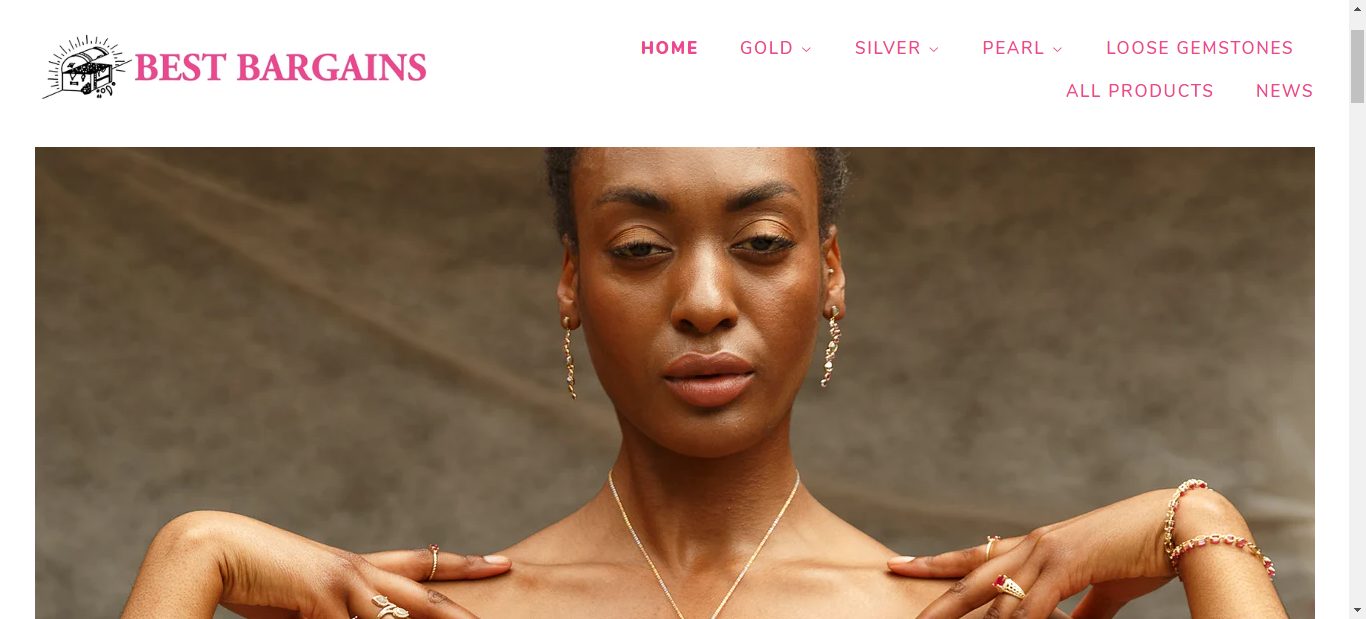 Year Founded: 1991
Location: Queen, Toronto, ON M5C 2M6, Canada
Company Type: Wholesaler, retailer, manufacturer
Main Products: Pearl, gold, silver, loose gemstones
Other Products: Bracelets, earrings, necklaces, rings, pendants, etc
Best Bargains is arguably the biggest jewelry manufacturer and wholesale company in Canada. It has one of the best jewelry pieces and manufactures them right on Canadian soil.
Other top-notch gems and pears they sell are imported right from their countries of origin.
Best Bargains has scaled its business internationally to more than 20 countries, where it constantly exports its homemade jewelry to them. Many independent retail and other businesses entrust Best Bargain with their Jewelry supplies.
Year Founded:

2006
Location: Bathurst St, Toronto, Canada

Company Type:

Wholesaler
Main Products: Pearls, gold filled, gold vermeil, rhodium plated, semi-precious gemstones
Other Products: Necklace, bracelet, pendants, earrings, etc
Driven by new trends and a passion for customer satisfaction, Stones and Findings have done a lot to ensure customers enjoy their services the most.
They have very competitive prices and various procedures to test the quality of the jewelry they supply to prevent their customers from the stress of doing so themselves.
Their business is a platform for established or aspiring designers and jewelry artists to get inspiration, support, and quality products. They achieve this through the skilled employees they possess, high-quality pieces of jewelry, and various helping resources.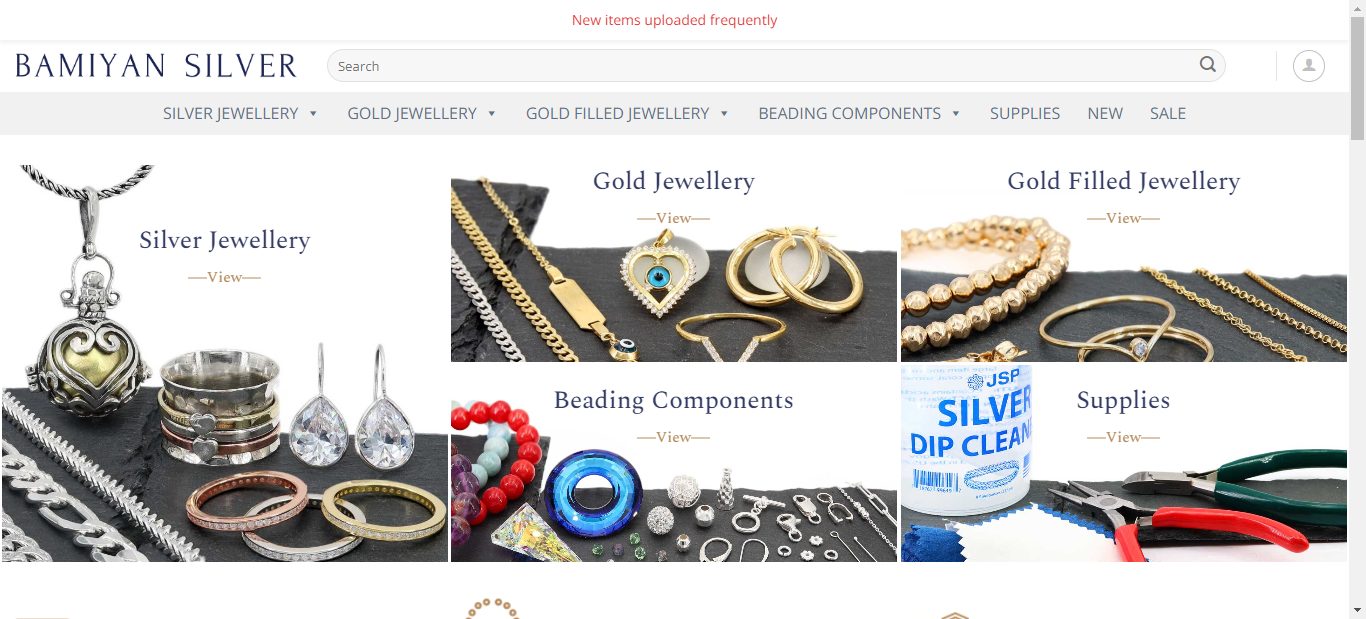 Year Founded: 2000
Location: Toronto, Canada

Company Type:

Wholesaler, retailer
Main Products: Sterling silver, gold filled, 10KT gold

Other Products:

Toe rings, necklaces, bracelets, anklets, studs, hoops, pendants and jewelry accessories.
As indicated on their website, Bamiyan Silver is strictly a retail, designer, and trade client business. Meaning they don't sell to the public.
They acquire high-quality silver jewelry from India, Italy, Indonesia, Mexico, Turkey, Thailand, and China, including materials to make the jewelry and ready-to-wear jewelry. Although initially, they were solely into silver jewelry merchandise, they have now introduced gold and 10KT gold.
They have remarkable jewelry and reliable customer service. Their variety, ready stock, and huge selection cart have given customers the most satisfaction over the years.
Year Founded: 1981
Location:

Vancouver, Candada

Company Type: Wholesaler

Main Products:

Fine Jewelry
John Wholesale Jewelry has been in the jewelry business for over 30 years. They have mastered how to supply the Canadian markets with high-profile jewelry.
They carefully select the materials and ready-to-wear jewelry they acquire, ensuring they are up-to-date in trend and style.
A fully functioning retail outlet and a website are available for customers to shop. They submit their order request and get their product shipped to them without stress. Their business has scaled through to international markets and is still growing.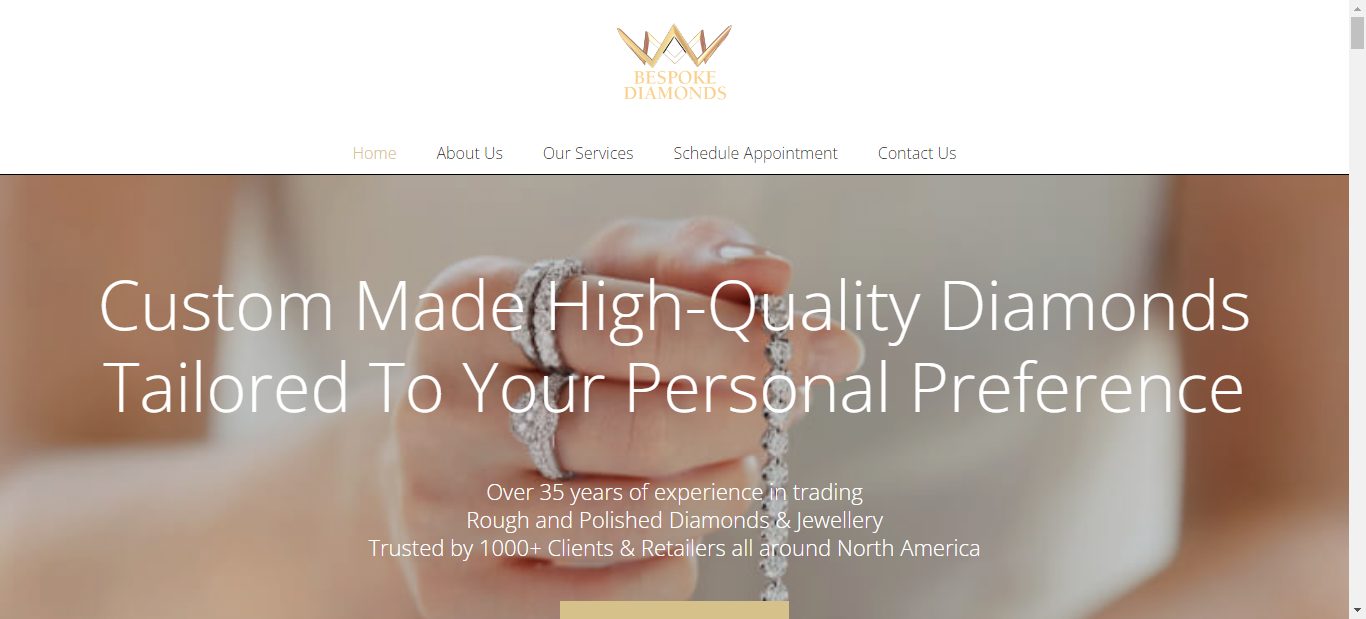 Year Founded: 1995
Location: 1136 Centre St Unite 203B, Thornhill, ON 24J 3M8, Canada

Company Type:

Wholesaler

Main Products:

Diamonds
Other Products: Jewelry, colored gemstones, lab-coated diamonds, gold
At Bespoke Diamonds, you can bring your inspiration, fantasies, and ideas to life. They deal everything with diamonds. These are not just random diamonds but high-quality diamonds from the best diamond exchange market in the world.
Being in the diamond business for more than 30 years, they have established themselves as experts in the game.
They have stacked employees with high experience who handle customers' custom designs and feed them tips, resources, and personalized ideas for special orders.
On top of that, they possess high-end machinery that helps customers view diamonds at an extensive rate, unlike any diamond store in Canada, so that they can satisfy themselves with their choice before making purchases.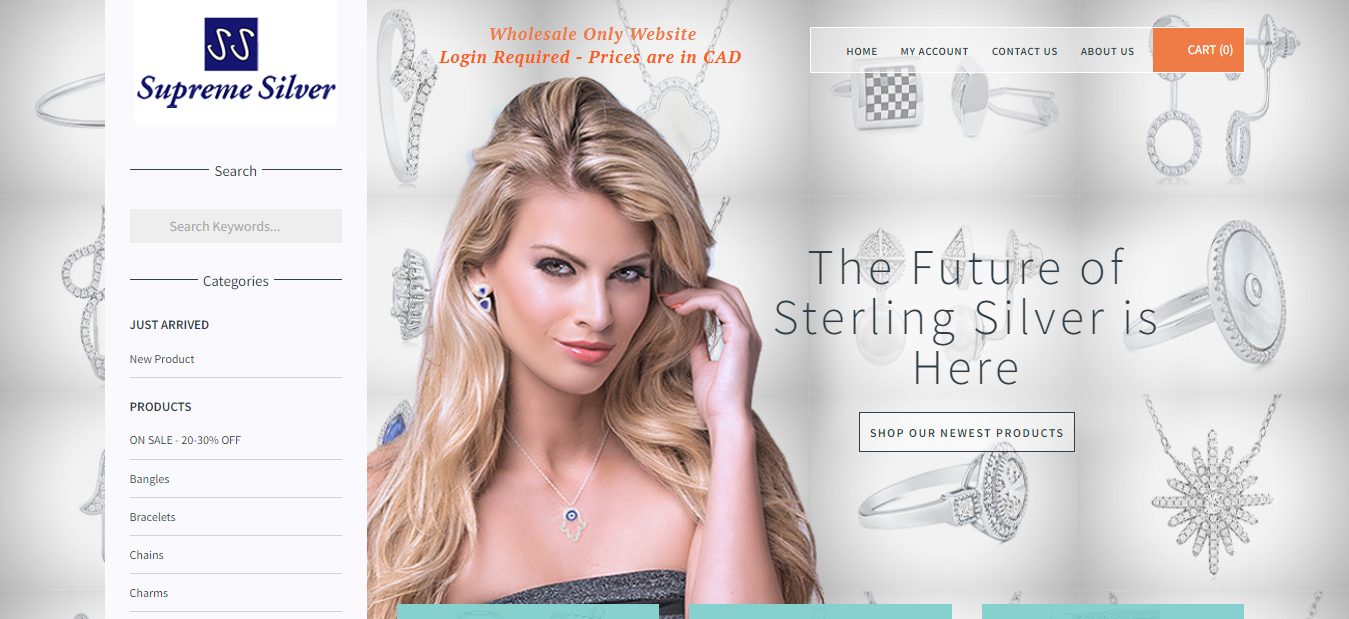 Year Founded: N/A

Location:

55 Queen, Toronto, Canada
Company Type: Silver manufacturer and jewelry wholesaler

Main Products:

Pearls, earrings, necklaces, pendants, rings, chains, bangles, bracelets
Other Products: LED computer light, pouches, diamond rings.
They deal in everything silver, which consists of silver jewelry and accessories. Supreme Silver has state-of-the-art machinery to manufacture and refine its silverware.
Basically, they produce sterling silver jewelry (which is silver mixed with a bit of other metal). They also use rhodium to plate the sterling silver to avoid degrading over time.
Additionally, customers who like to appear flashy with diamond accessories but do not have the money to purchase them are catered for. Supreme Silver incorporates their sterling silvers with a synthetic gemstone called cubic zirconia. These create a substance with the look and feel of a diamond but at only a fraction of its price.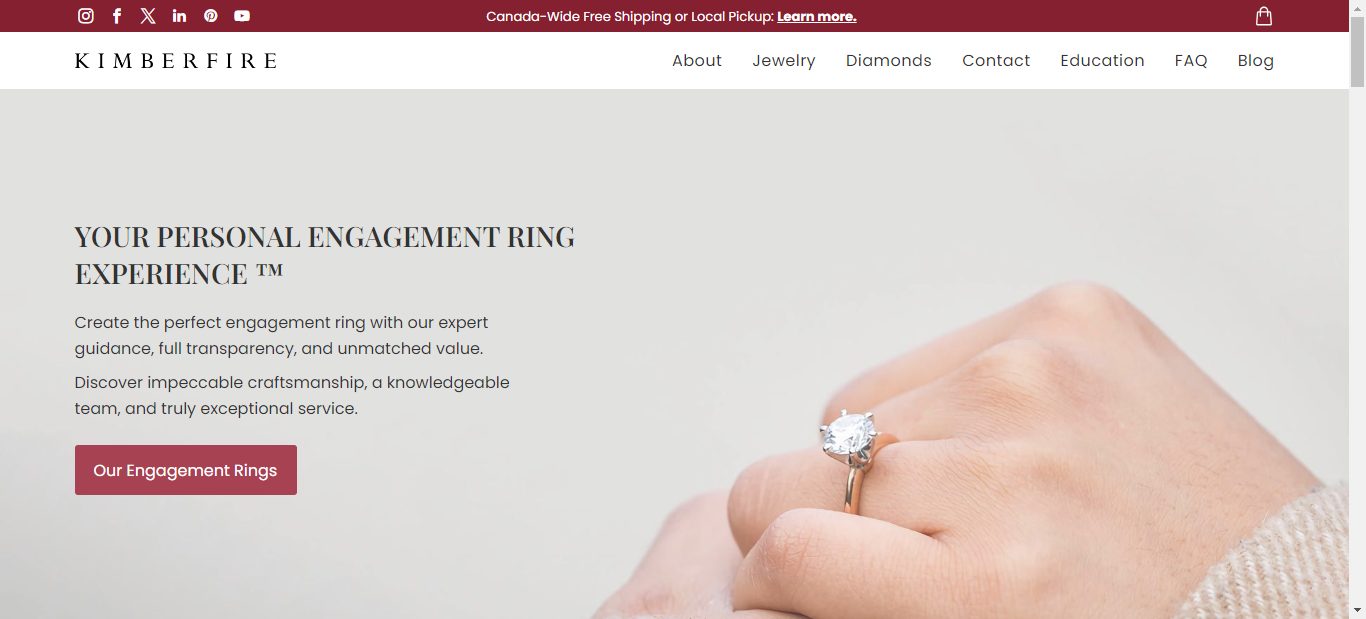 Year Founded: 2013
Location: Toronto, Canada

Company Type:

Wholesaler, retailer
Main Products: Diamonds

Other Products:

Custom Jewelry
Kimberfire is a diamond wholesale guru. They have made it a priority to balance out the physical retail experience and the online shopping experience, making sure it is equally comfortable for their customers.
Balancing online and physical shopping is done by providing easy access to a wholesale diamond inventory with experts in real life always available to inspect them for customers. By doing so, they can keep a consistent quality and affordable price on their products.
A large customer base trusts Kimberfire for custom-made merchandise, a pre-designed jewelry catalog, and affordable prices trusts Kimberfire.
Year Founded:

1890
Location: Toronto, Canada
Company Type: Wholesaler
Main Products: Gold, silver, platinum, and diamond jewelry
Other Products: Earrings, pendants, bracelets, anklets, etc
Tecimer Jewellery Limited is a family-owned business that has decades of jewelry heritage. For more than 40 years, they have been among the biggest active gold jewelry wholesalers in Canada. They possess over 3,000 client stores across Canada.
Ranging from the finest gold platinum to diamonds, Tecimer Jewellery Limited has experienced workers who handpick the best of these materials from their source suppliers.
Their in-stock jewelry volume is high and can support small to large-scale jewelry stores with ready shipment for North America and Canada.
Year Founded:

2008

Location:

50 Silver Star Blvd Unit 204, Scarborough, ON M1V 3L3, Canada

Company Type:

Online shop, wholesaler, supplier 

Main Products:

Jewelry

Other Products:

Fashion products, accessories, watch repair 
Maison Sadat: Wholesale Jewelry is an online merchant that wholesales jewelry and accessories for retailers. They also source the best manufacturers of jewelry across North America and the world for supplies to their customers. 
Hence, the retail stores in Canada can comfortably order the wholesale amount of jewelry from this platform as they have a very competitive price and reliable quality. 
Maison Sadat started a jewelry wholesale business in 2008 and has gained reasonable momentum and experience in the business. 
Today, they also offer highly reliable wristwatch repair services. Faire boost of millions of products sold each year. 
Year Founded:

2000
Location: Jaipur, India
Company Type: Manufacturer, wholesaler
Main Products: Sterling silver jewelry
Other Products: natural precious and semi-precious stones, gold.
Although located in India, Mangla has a substantial amount of the jewelry market in Canada. Mangla succeeded in doing this mainly because it has proved itself as a reputable brand that provides one of the world's most unique and fashionable jewelry products.
They are masters of sterling silver manufacturing and export this product daily to numerous Canadian retailers. Mangla International also produces gold, gemstones, and precious stones jewelry.
One of the reasons for their international dominance is the comfortable customer service and, hence, the complete satisfaction they provide their customers.
Year Founded:

2013

Location:

160 Deer Park Ave, Kimberley, BC V1A 2J4, Canada

Company Type:

Manufacturer, supplier

Main Products:

Earrings, bracelets, short  and long necklaces, findings, jewelry accessories

Other Products:

Pendants, chains, rings, etc
Tumbled Earth was launched in 2013 by an individual who was inspired by the natural surroundings of lakes, mountains, and woods and decided to transfer that passion into her jewelry. 
You can find high-quality earthy jewelry that is easy to wear and very stylish.  These natural and shining stones from the Kootenay River are channeled into earrings and pendants. Tumbled Earth has numerous retail customers scattered around Canada and across North America where they supply wholesale earthy jewelry and other fashionable accessories to them.
Purchasing online is very easy due to their straightforward customer service. You get your product shipped to your desired location without hassle. 
Year Founded:

2000

Location:

Jaipur, India.
Company Type: Manufacturer, supplier
Main Products: Silver 925 jewelry
Other Products: Gemstones, customized accessories
Silvesto is a leading brand in the manufacturing of homemade silver pieces of jewelry and silver 925 jewelry. They have high-quality machinery that controls effective jewelry manufacturing processes like plating, pleating, casting, and polishing.
The Canadian jewelry market depends on Silvesto for its silver jewelry and silver raw materials. They also offer custom silver jewelry merchandise according to special requests and keep to quality standards in Canada.
These silverwares come in bangles, bracelets, necklaces, braces, and rings.
Year Founded:

2007

Location:

8099 Weston Rd unit # 20, Woodbridge, ON L4L 0C1, Canada

Company Type:

Wholesaler

Main Products:

Customized fashion costumes, Jewelry, and fashion accessories 

Other Products:

Gemstone sales, jewelry-making supplies, beads, findings, etc
This is a top-notch fashion costume and fashion jewelry wholesaler that specializes in supplying trending jewelry to Canadian businesses. 
Their most sold products are fashionable necklaces, bangles, earrings, scarves and brooches.  
They also provide remodeling and repairing of older pieces, pearls, and gem restringing.
FAQs:
How do I find a good jewelry supplier?
The easiest way to find a good jewelry supplier is to drop a Google search with the specific terms you need and review the list that pops up. 
Whereas, if you are in a vicinity where trade shows and expos are held, you can attend one to see suppliers and their goods up close and choose from the most pleasing to you. 
Where can I buy wholesale jewelry online?
Popular websites like DHgate, Aliexpress, and eBay are good places to buy wholesale jewelry online. They are very safe to buy from because all businesses on those sites are verified, so you just need to go with your preference. 
How do you source wholesale jewelry?
You need to list some details of your preferred jewelry to source a wholesale jewelry supplier. The list will be of the type of jewelry you want (diamonds, silvers, pearls, etc.) and what kind of style you need (necklaces, findings, braces, etc.). Once you have narrowed down your requirements and specialty, the sourcing process becomes easy as you can quickly spot a supplier that meets your specific terms.
Conclusion
Finding a wholesale supplier for a delicate commodity takes work. This work is because the quality of jewelry must be maintained, and retailers need the best they can get.
And when you transact with an unqualified wholesaler, you might end up with substandard goods. However,  this guide lets you easily choose if you're looking to grab a high-end wholesaler in the Canadian jewelry market. 
We have carefully gone through all these wholesalers and confirmed their reputability; all you have to do is choose. 
China is also another good option for cheap and quality jewelry sourcing. China's jewelry market is growing rapidly and is expected to total $126.9 billion in 2023.
We at Moer Sourcing can help you find the best jewelry wholesaler in China at the most reasonable price and good quality. 
CONTACT US now to talk about your needs!