[Top 11] Best Bra Manufacturers in China
When it comes to bras, China has got it all covered. The best bra manufacturers in China have perfected the art of creating undergarments that are not only comfortable but also stylish and affordable.
These manufacturers have taken the time to understand the needs and desires of women from all walks of life. From everyday essentials to special occasion pieces, they have it all.
What sets these manufacturers apart is their attention to detail and commitment to quality. They understand that a good bra is not just about the design, but also about the fit. They use the finest materials and employ skilled artisans to ensure that every piece is made to perfection.
In this article, we'll introduce you to some of the best bra manufacturers in China, hope that you find it valuable.
Best Bra Manufacturers in China – Top Picks
Year Founded:

2009

Location:

Guangzhou, Guangdong Province

Company Type:

Manufacturer, wholesaler, exporter

Main Products:

Invisible bras, silicon bras, invisible bras, silicone nipple covers, bra inserts,

Other Products:

Other lingerie accessories
Xinke Silicone Products is a well-known brand for manufacturing silicone and invisible bras. They've been in the business for over a decade and have established themselves as one of China's most reputable bra-manufacturing brands. Their customer base spans China, Asia, Europe, and North America. In China, they have hundreds of wholesale outlets and supply units.
The reason for the eminent success in this field is the highly skilled workforce, an expert R&D team, a state-of-the-art art factory, and an effective management team. All of these help them attain a strict quality control standard and produce high-quality underwear that is acceptable and trusted by many customers. They have bagged an ISO9001 certification as a plus to their reputation.
On their website, you will find an extensive catalog of their products with detailed explanations of materials used and how to make a purchase.
Year Founded:

2002

Location:

Lingerie town, Gurao town, Guangdong Province

Company Type:

Manufacturer, distributor

Main Products:

Plus size underwear/ OEM/ODM service

Other Products:

Accessories, knitting, wears
Shantou Ladymate Apparel is based on the manufacturing of plus-size underwear. These are A-K cup sizes, 28-52 band sizes, and x5-6XL.
They produce standard-size undergarments as well.
Many high-profile brands have partnered with Shantou Ladymate Apparel to make sexy, high-quality underwear.
They have a state-of-the-art factory stacked with over 150 employees. These facilities have modern technologies and top-notch procedures for quality control management. Their machines are capable of handling bulk and small manufacturing orders. They also make use of eco-friendly materials and manufacturing processes.
Their brand has been a go-to supplier for many businesses in North America, Europe, and China. They constantly serve products such as nursing bras, lingerie, sports bras, sleepwear bras, shapewear, panties, bodysuits, etc. Their product variety is endless.
They have remarkable customer service, which they constantly work to make more suitable for their customers.
Year Founded:

2000

Location:

Fujian Province, China

Company Type:

Manufacturer, exporter, wholesaler

Main Products:

Lingerie bra, men's and women's underwear

Other Products:

T-shirts, vests, tracksuits, swimwear, accessories, etc
JS Underwear is a prominent underwear manufacturer, exporter, and wholesaler in China. They produce a vast range of underwear for men and women and high-quality bras for women. Their product range includes baby bip, sleepsuits, rompers, boxers, thongs, children's briefs, men's briefs, and many others.
Although this company is mainly an underwear company, it also produces one of the best bras in China. An extensive list of the bra products they have is listed on their websites.
They own a large factory with state-of-the-art machinery to make these high-quality underwear. These machines are handled by over 200 experienced workers with top knowledge of the best underwear materials and how to use of them.
The skilled employees also ensure eco-friendly materials of the most beneficial properties are used to produce these bras and underwear to provide the best experience when they reach consumers. All these steps are carried out as JS Underwear appreciates quality and everything to satisfy its customers.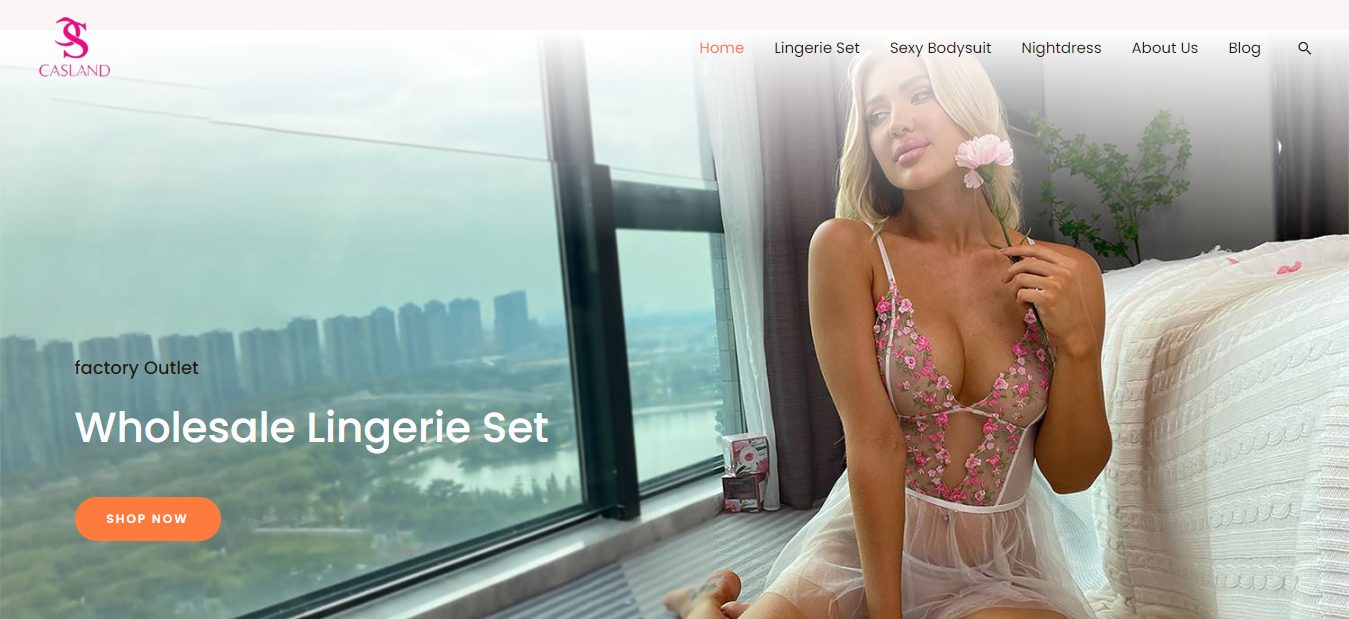 Year

Founded:

2010

Location:

Foshan, Guangdong, China

Company Type:

Manufacturer, exporter, wholesaler

Main Products:

Fashion bra, sexy lingerie apparel, shapewear, swimwear, training and performance wear

Other Products:

OEM and ODM services, apparel, 
Foshan Casland Garments Co., Ltd. is a global company with numerous advanced factories in China. It is a leader in sexy and luxurious lingerie globally, focused on raising women's self-esteem and making them feel more comfortable in their bodies. 
They have been recognized for the fashionable undergarments they produce. Professional designers and a sample-making team make these fashionable undergarments. They can make over 30 lingerie designs monthly, which follow the trends in the world and satisfy customers' fashion desires.
Foshan Casland Garments has over 100 workers, making it possible for their mass production and supply of bras and lingerie worldwide. 
On their websites, you can find all the various ranges of apparel they produce, including bodysuits, nightdresses, sexy, fashionable briefs, etc
Year Founded:

2010

Location:

Guroa, China

Company Type:

Manufacturer, wholesaler

Main Products:

Lingerie, bras, panties

Other Products:

Women's products like adaptive wear, shapewear, OEM and ODM services, etc
This Chinese underwear guru has been in the manufacturing business for over ten years and has harnessed their skill in making high-quality underwear for women, raising their self-esteem and making them feel the best selves in their bodies. The vision to make the best wear that can activate a trusted relationship with customers is the biggest inspiration of this company. They have dedicated their efforts to bringing the most experienced staff, with the best materials possible and high-end machines to achieve this.  
They have been committed to serving women with luxurious bras made with the safest materials. Their exclusive and exquisite designs come in every size so customers can pick any comfortable. 
Their headquarters is located in Gurao, which is the biggest underwear manufacturing town in China and is equipped with a 5,000-meter square advanced factory. Over 100 experienced workers handle the manufacturing operations in their factories with intricate accuracy.
They also have numerous processing stages where their products undergo treatments and tests to determine their strength and maintain quality. They also have countless wholesale outlets scattered across the country.
Not only in China, but their market also spans South East Asia, America, Africa, the Middle East, and many other countries where they are active suppliers to the biggest wholesale and retail brands. They have partnered with more than 1,000 businesses around the globe.
Year Founded:

1991

Location:

Buildings 218 and 219 Wangjing Development Zone Lize Zhongyuan District 2 Chaoyang District Beijing, 100102 China

Company Type:

Manufacturer, supplier

Main Products:

Undergarments for men and children, lingerie for women

Other Products:

Tops, t-shirts, swimwear, sleepwear, sportswear, polo shirts, etc
Aimer International Company is a big Lingerie brand and other associated products. In 1993, the first company co-owner created an alloy bra; they have since stormed upon the bra market and acquired loyal customers.
In China, they have over 20 wholesale supply subsidiaries and more than 300 branches scattered across the country. The quality of their bras is unmatched. They have highly experienced personnel who handpick the materials for creating these undergarments, ensuring they are the safest and most comfy.
They have numerous lines of lingerie, which are displayed on their websites.
Their facilities carry state-of-the-art machines and are controlled by design experts, which helps to make their luxurious lingerie.
Companies overseas have partnered with Aimer International Company for ODM services for over ten years. These companies are mainly in France, Sweden, Italy, and other European countries.

Year Founded:

2012

Location:

Shanghai, China

Company Type:

Manufacturer, distributor

Main Products:

Women's underwear and lingerie

Other Products:

Accessories, lounge, Sportswear, pajamas, jackets, etc
A decade plus was all Neiwai needed to drop a firm foot on the Chinese bra market. Since its establishment in 2012, they have produced comfortable, high-quality lingerie at competitive prices.
Neiwai is in business with several brands, constantly supplying undergarments to them. In China, they are already competing with the biggest bra-manufacturing brands. The competition results from the large number of loyal customers they have maintained.
They provide irresistible benefits to their customers, including comfortable customer service and very affordable and convenient shipping for overseas clients.
They have numerous factories stacked with highly skilled employees working with state-of-the-art equipment. Their lingerie comes in cotton, silk, Lycra, and tenol. These materials were picked because of their durability and comfort on the body.
The range of their other products apart from undergarments includes t-shirts, swimsuits, tees and tanks, shorts and skirts, joggers, outerwear, socks, etc.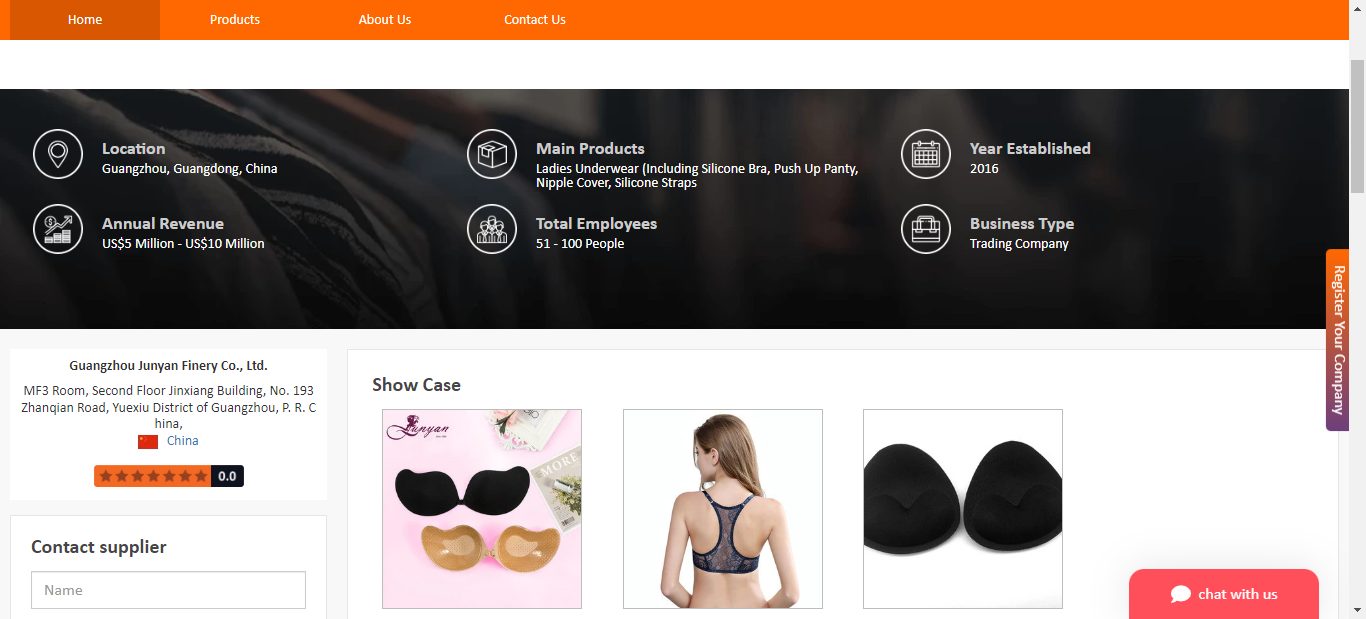 Year Founded:

2016

Location:

Guangzhou, China

Company Type:

Manufacturer, distributor

Main Products:

Ladies' underwear

Other Products:

Accessories
This company produces a couple of underwear, such as push-up panties, silicone bras, silicone straps, sports bras, and nipple covers. These undergarments undergo several processes that stretch and observe their limits before they are sent into the market. These processes are done to ensure strict quality control of the products and ensure every single one follows the company's standards. Their undergarments are also luxurious and suit every age group.
They have a highly experienced workforce of over ten people who operate high-quality machines and also handpick beneficial raw materials for their business.
They have numerous wholesale outlets and distribution channels across China. Their products have attracted loyal customers, and their business is gradually expanding to neighboring countries.
Year Founded:

1998

Location:

Shanali industry Area, Nanyan town, Shantou, Guangdong, China

Company Type:

Manufacturer/Factory and trading company

Main Products:

Lady's bra, underwear

Other Products:

Seamless style, sexy lingerie, etc
Shantou Huichen Fashions Co., Ltd is a Chinese-based producer of women's apparel, particularly bras, underwear sets, panties, shapewear, etc.
They produce over six underwear lines and are supported by highly competent brains in their employee batch. Their underwear comes in plus sizes and small ones to cater to all customers.
Shantou Huichen has built their business on trust between them and their customers. They achieve this by putting quality before profit. They produce fashionable underwear to improve their customers' self-esteem, and they come with reasonable prices.
They have an advanced factory with high-end machinery controlled by over 500 workers. Large-scale production is efficiently carried out in this factory. Hence, they have been successfully supplying high-end lingerie in large numbers to international markets in Mexico, Canada, America, Chile, Dubai, South Africa, France, Germany, and Poland.
They have successfully acquired Walmart, BSCI,  and Walmart certifications. This certification has further boosted their customers' trust and loyalty. Presently, they make over 2 million dollars annually in underwear sales.
Year Founded:

1970

Location:

Huizhou, China

Company Type:

Manufacturer, wholesaler

Main Products:

Women's bra

Other Products:

Accessories, men's underwear, etc.
Huizhou Yoli Technology is a reputable bra manufacturing company that has attracted many local customers in China and abroad. They have been in the business for over three decades and have mastered what best suits consumers. They are constantly trying to bring out the best from their services.
Besides bras, they produce high-quality men's underwear and other women's apparel like briefs, etc. They have a large factory in Huizhou where they use high-end machines to manufacture these products.
Their factory houses over 300 employees. With this amount of workforce, it becomes effortless for Huizhou Yoli Technology to produce a large number of women's bras that can cater to their Chinese customers and even wholesale merchants abroad.
They are a successful business and have traded with big online and physical retail shops. They make over 5 million dollars annually in sales.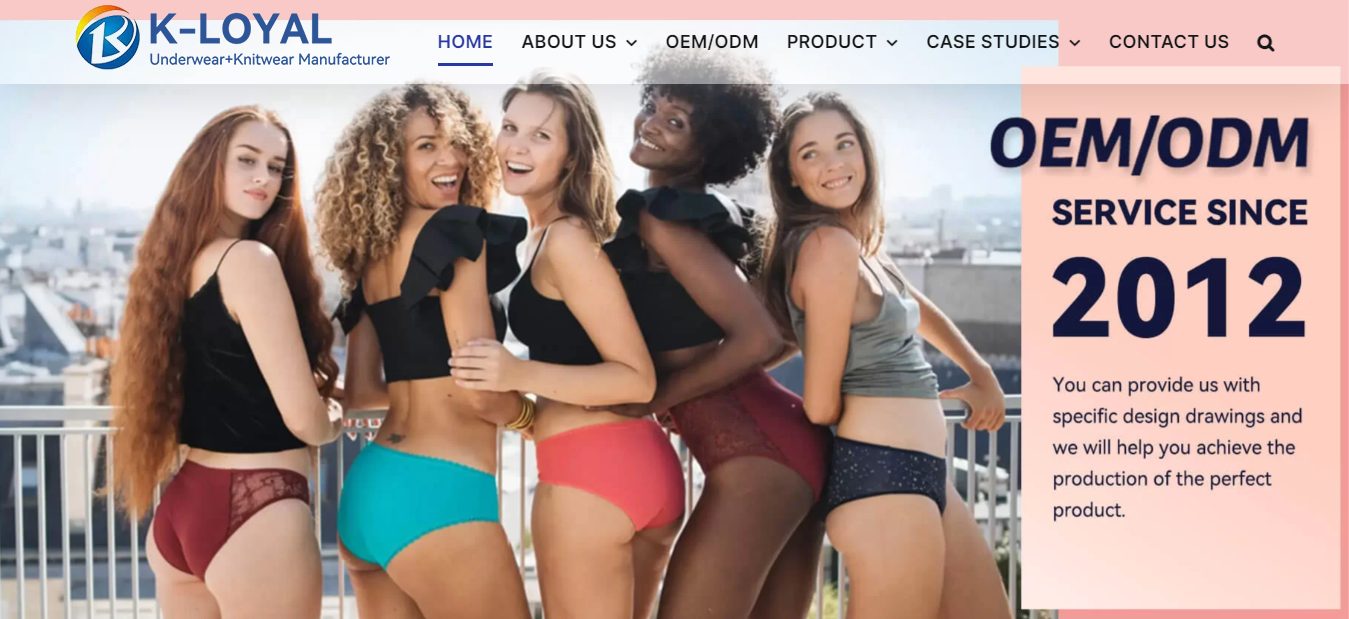 Year Founded:

1990

Location:

West side of tax bureau, Lingwei Road, Xianbo Village, Gurao Town, Chaoyang, Shantou, Guangdong, China.

Company Type:

Manufacturer, Industrial and trade

Main Products:

Undergarments, swimwear, sportswear

Other Products:

Panties, shapewear, period panties, OEM/ODM services
K-Loyal has channeled its decades-plus experience into creating a modern factory that makes and markets highly fashionable undergarments. Their factory can produce 12,000,000 units annually in 1,000 plus unique designs.
Over 30 sourcing team members and 15+ design inspectors carry out these manufacturing processes. They are highly experienced and ensure the excellent quality K-Loyal products always possess. K-Loyal also considers environmental protection, whereby they use eco-friendly materials and manufacturing processes.
They also provide ODM/OEM services and products to over 100 plus high-profile brands in the domestic Chinese market, Europe, and North America.
Supply and distribution are effortless and fast as they have a dynamic supply chain, which is one of the many reasons customers rely on K-Loyal for their underwear supply.
Frequently Asked Questions
Where are the most bras manufactured?
China has the most enormous amount of bras manufactured and supplied to other parts. China has a large, inexpensive workforce, and the number of industries is vast. These conditions make bra manufacturing just like other commodities easier.
Also, China has a significant population of women. So, the demand for bras is in excess, and the market will only be sufficient if numerous factories are not set up to support this demand.
How can I find a suitable online bra wholesaler?
You can find a reputable online bra wholesaler in a couple of ways. One way is to throw in a Google search with specific keywords like the location you need the wholesaler to be and the type of bra you are looking for supplies for. You can review results, customer feedback, and ratings to confirm the company's reputation.
Another way is to attend trade shows of bra companies, which are held at various intervals yearly. Attending these shows can help you have a physical look at their products before making a purchase.
Which bra material is best?
Microfiber and cotton bras have proven to be the best, as the bras tend to be comfortable. The microfiber makes it lighter, while the cotton provides a soft feeling.
Consider ordering bras with these materials, as their demands are relatively high.
Wrapping Up
We understand that in a crowded Chinese bra market, finding the right supplier can be a real headache, especially if you end up with an unknown or unreliable one. That's where Moer Sourcing comes in.
We're here to simplify your purchasing process. With over 15 years of experience and a skilled team, we specialize in finding the products you want at reasonable prices.
With us, you've found a trusted partner. Contact Moer Sourcing, and let us help you find that perfect product!