15 Best Sites Like Mercari to Buy and Sell Anything Online
Mercari is a thriving online marketplace that brings together buyers and sellers, providing them with a convenient platform to engage in a wide range of buying and selling activities.
The success of Mercari can be attributed to its intuitive interface and comprehensive set of features, which have propelled it to the forefront of the e-commerce industry.
In this article, we will delve into the key aspects that make Mercari stand out, while also exploring alternative sites and apps that cater to the diverse needs of buyers and sellers.
Mercari Authenticate
One of the standout services offered by Mercari is Mercari Authenticate, which serves as a guarantee of authenticity for luxury items sold on the platform.
This exceptional service instills confidence in buyers, as they can be assured that the high-end products they purchase are genuine.
Mercari Authenticate operates through a team of seasoned experts who meticulously inspect and verify the authenticity of items such as handbags, watches, and sneakers, providing buyers with the assurance they need to make informed purchasing decisions.
Instant Pay
Among the noteworthy features that set Mercari apart is Instant Pay, a valuable tool that greatly benefits sellers.
Instant Pay enables sellers to receive their funds promptly following a successful sale, eliminating the waiting period typically associated with payment processing.
This expedited payment system empowers sellers by granting them immediate access to their earnings.
With Instant Pay, sellers can efficiently manage their cash flow and allocate their hard-earned funds towards growing their business or fulfilling personal needs, fostering a seamless and rewarding selling experience.
Shipping Protection
Mercari places a strong emphasis on the security and reliability of the transaction process, evident in its robust shipping protection feature.
Buyers can rest assured knowing that their purchases are safeguarded during the shipping phase, reducing concerns about potential loss or damage.
Sellers also benefit from this feature, as it minimizes the risk associated with shipping valuable items.
By instilling trust and confidence among users, Mercari's shipping protection feature establishes it as a preferred platform for online transactions, creating a harmonious environment where buyers and sellers can engage with peace of mind.
In conclusion, Mercari has emerged as a prominent player in the online marketplace landscape, driven by its user-friendly interface and a suite of features designed to optimize the buying and selling experience.
Through services like Mercari Authenticate, Instant Pay, and shipping protection, Mercari has successfully fostered an environment of authenticity, convenience, and security, earning the trust and loyalty of a vast user base.
While Mercari continues to dominate the e-commerce industry, buyers and sellers can explore alternative platforms to find the one that best aligns with their specific needs and preferences.
Best Sites and Apps Like Mercari to Buy and Sell
While Mercari enjoys significant popularity as an online marketplace, there are several other platforms that offer comparable services. Here is a selection of the best sites and apps that serve as alternatives to Mercari for buying and selling goods:
eBay stands out as one of the largest and most diverse online marketplaces globally. It caters to a broad range of categories and enables individuals and businesses to buy and sell both new and used items.
With its extensive user base and auction-style listings, eBay provides a vibrant marketplace for buyers and sellers alike.
Poshmark specializes in fashion and offers a unique platform for buying and selling new and pre-owned clothing, shoes, and accessories.
It fosters a social shopping experience by encouraging users to follow their preferred sellers and engage in community interactions. Poshmark boasts a lively community of fashion enthusiasts.
OfferUp distinguishes itself as a local marketplace that facilitates transactions between buyers and sellers in the same geographic area.
It prioritizes simplicity and convenience, allowing users to quickly and easily list items. OfferUp also provides secure payment options and encourages in-person meetups for local transactions.
Etsy has gained popularity as a go-to marketplace for handmade and vintage items. It caters to artists, artisans, and collectors looking to showcase and sell their unique creations. Etsy celebrates creativity and craftsmanship, making it an excellent choice for individuals seeking one-of-a-kind products.
Depop, a mobile marketplace, targets fashion-forward individuals and offers a curated selection of vintage and unique fashion items.
Blending elements of social media and e-commerce, Depop creates a visually appealing and interactive shopping experience.
Shpock, aptly named "Shop in your Pocket," operates as a mobile marketplace with a strong emphasis on local buying and selling.
It enables users to list items effortlessly and facilitates secure communication between buyers and sellers. Shpock aims to streamline the buying and selling process.
StockX has carved a niche as a specialized marketplace for buying and selling sneakers, streetwear, electronics, and luxury goods.
It operates on a bidding system, with sellers listing items and buyers placing bids. StockX guarantees the authenticity of products, ensuring a trusted marketplace for high-demand items.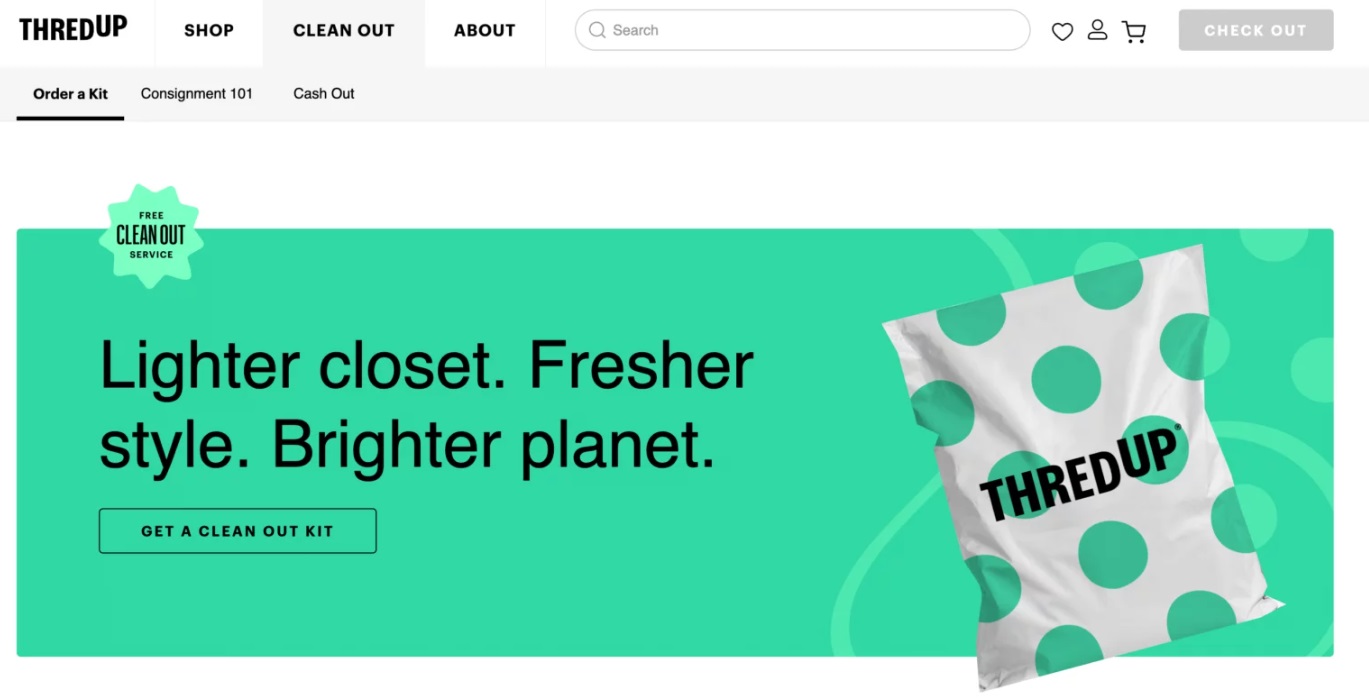 ThredUP presents an online consignment and thrift store specializing in women's and kids' clothing. It offers a wide selection of secondhand clothing across various styles and brands.
ThredUP provides an eco-friendly and affordable shopping experience for fashion-conscious individuals.
Vinted functions as a peer-to-peer marketplace focused on secondhand fashion, facilitating the buying and selling of clothing, shoes, and accessories. Vinted promotes sustainable fashion practices by extending the life cycle of fashion items.
The RealReal operates as a luxury consignment marketplace, focusing on authenticated luxury items. It presents a curated selection of high-end fashion, jewelry, watches, and home decor.
The RealReal guarantees the authenticity of its products, offering a trusted platform for luxury enthusiasts.
Vestiaire Collective serves as a global marketplace for pre-owned luxury fashion. It connects buyers and sellers worldwide, providing an extensive range of curated luxury items.
Vestiaire Collective ensures the quality and authenticity of products through a rigorous verification process.
Curtsy is a mobile marketplace targeting women's fashion. It facilitates the buying and selling of
clothing, shoes, and accessories, particularly catering to a young and trendy demographic.
Curtsy creates a distinct shopping experience.
Chairish operates as an online marketplace dedicated to vintage and antique furniture and decor.
It caters to interior design enthusiasts and collectors seeking unique and stylish pieces. Chairish offers a curated selection of high-quality furniture and decor items.
SidelineSwap specializes in sports gear and equipment, connecting athletes and sports enthusiasts. It provides a platform for buying and selling sports-related items across various categories, including hockey, baseball, skiing, and more.
Craigslist
Craigslist serves as a classified advertisements website, covering a wide range of categories such as items for sale, housing, jobs, and services. It operates in numerous cities worldwide, enabling users to post and browse listings locally. Craigslist facilitates connections between individuals and businesses for local transactions.
While Mercari remains a popular choice, these alternative platforms offer diverse options for buyers and sellers seeking unique experiences and specific niche markets.
Frequently Asked Questions About Sites like Mercari

Is Mercari free to use?
Yes, Mercari is free to use. However, there are fees associated with selling items on the platform, including a selling fee and a payment processing fee.
Can I negotiate the price of an item on Mercari?
Yes, you can negotiate the price of an item on Mercari by using the "Make an Offer" feature. This feature allows buyers to submit a lower price to the seller, who can then accept, decline, or counter the offer.
How does Mercari ensure the safety of transactions?
Mercari provides shipping protection for buyers and sellers, which covers lost or damaged items during transit. It also offers buyer and seller ratings and reviews to promote trust and transparency within the community.
Can I sell used items on Mercari?
Yes, Mercari allows users to sell both new and used items. However, sellers are required to accurately describe the condition of their items to ensure transparency for buyers.
How does Mercari Authenticate work?
Mercari Authenticate is a service offered by Mercari for verifying the authenticity of luxury items. Sellers can choose to have their luxury items inspected by Mercari's team of experts before they are shipped to the buyer, ensuring the authenticity of the product.
Final Thoughts on Mercari Alternatives
While Mercari offers a convenient platform for buying and selling various items, there are several alternatives available for users looking for different features and experiences.
Platforms like eBay, Poshmark, OfferUp, Etsy, and Depop cater to specific niches and provide unique selling points. Whether you're interested in luxury items, fashion, local transactions, or specialized markets, there is a marketplace out there to suit your needs.
In conclusion, exploring alternatives to Mercari expands your options and allows you to find the platform that best aligns with your buying or selling preferences.
Each alternative has its strengths and focuses on different aspects of the market. So, go ahead and explore these alternatives to discover new opportunities and experiences in the world of online buying and selling.